The .UK registry has a Data Quality Policy that is applicable to all variations of .uk domain names. This validation check is triggered by:
Any updates or changes you make to your domain
Any new .uk domain registrations
If you register a new .uk domain name or make an update to your existing domain, Nominet will cross-reference the details you have provided and if they cannot validate the data they hold for your domain or if it does not match against public data sources they will send you an email like this:

"Unfortunately the registrant details that you have provided for the domain name could not be processed as you have provided name details we could not automatically identify against public data sources."

Nominet is enforcing domain suspensions if the information is not verified/updated, and eventually, they will enforce domain cancellations. This policy is being enforced by law enforcement agencies and governments to protect against cyber-crime and other domain related issues that can occur on the web.

If you receive an email of this nature, we suggest either replying to the email or dropping them a line – your case number and their contact details are in the email. If your personal information needs updating, you can update this in your My Yola, by following these steps:

1. Log in to My Yola account and click Domains along the top menu bar.

2. Next to the domain for which you wish to update the details, click Advanced settings.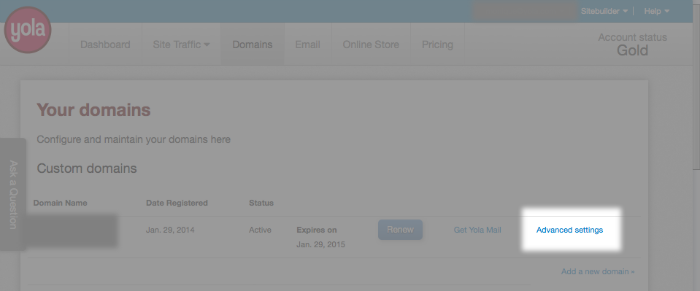 3. Click Edit your domain registration info and edit your details. Click Update details.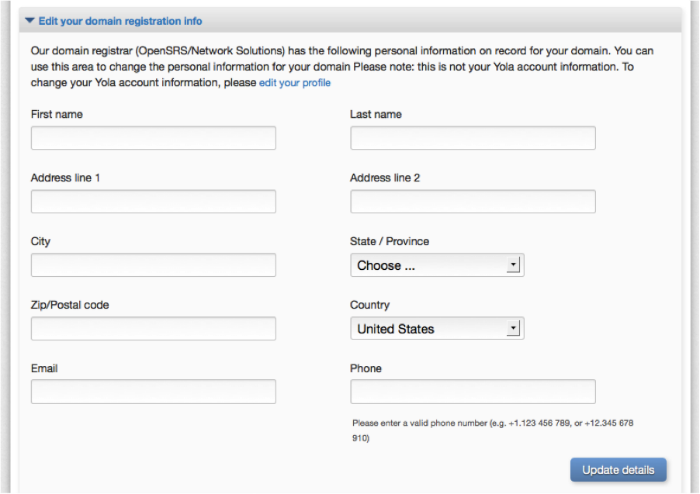 More information on how the .uk data validation policy affects your website can be found here.

Related to this issue, On 10 June 2014, Nominet launched the new .uk domain extension. There is a site dedicated to the .uk domain here - which contains all of the information you need to know about this TLD.

If you already own a .co.uk domain, Nominet has reserved a .uk domain version for you. They will hold it until 10 June 2019, for you to claim.

Please note: Yola does not sell .uk domain extensions. You would need to buy your domain from a registrar that sells the domain extension you are looking for. You can then point your domain to your Yola site (available to Yola Bronze, Yola Silver, Yola Gold and partner program subscribers only). We have a tutorial which will step you through the process of using a domain name not purchased from Yola, here is a link: Publish to a domain you already own.