The Online Store integrates with a large number of payment gateways. Here is the full list: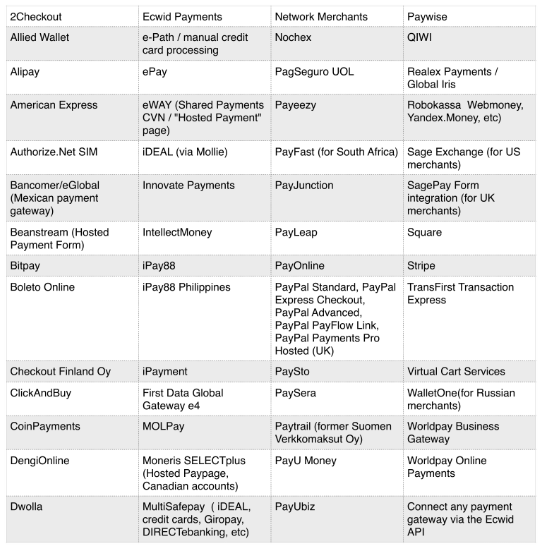 Once you have your account set up, you can add a payment method or edit existing payment methods, in the Payment section of your dashboard. To add another payment processor, scroll down to Other ways to get paid section:

Click on Choose a payment processor button to select a payment gateway from the drop-down menu.
Note: the availability of payment gateways depends on the country of your store registration.
The payment method options are extremely varied and give you absolute control over what types of payments you accept. Not only that, but you can also accept non-typical payment methods, such as a check or a fax order. Payment methods fall into two different categories:
Online methods
Online methods process payment automatically and would apply to methods such as credit cards and PayPal transactions.
Adding a payment gateway:
1. Go to Payment > Other ways to get paid.
2. In the drop-down menu, select the gateway you'd like to use.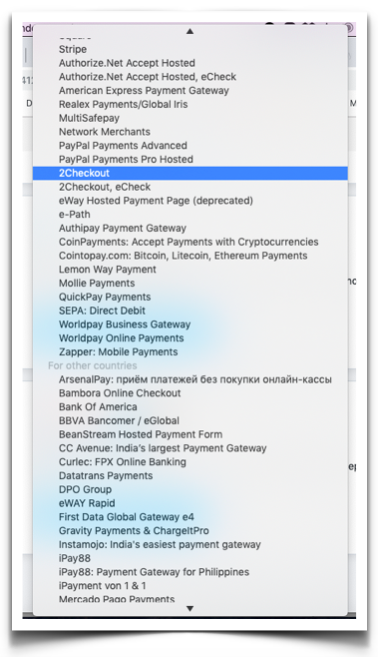 5. In the next window, enter your gateway account information as required.

6. Click Save to enable this gateway.

Adding a PayPal Express payment method
1. Go to Payment.

2. On the Payment page, go to Current payment methods and click Edit next to PayPal Express Checkout.
3. Enter your Paypal email address and click on Advanced Settings to enable the Paypal payment option in the checkout.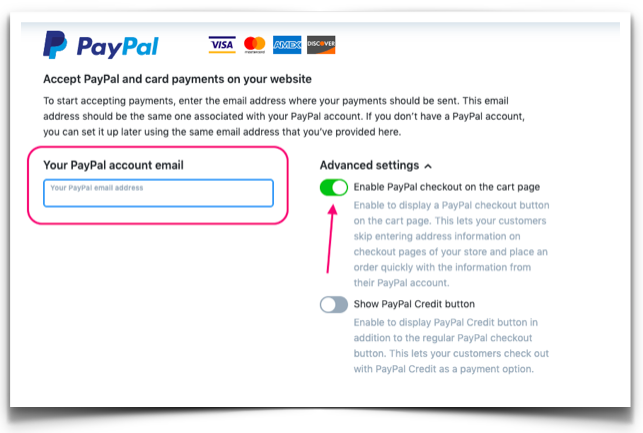 4. Click Save to enable this payment option.

Adding customer instructions
You can add a payment-specific customer note is always shown on the next line of the payment method name. It's a neat way of adding extra information to your payment methods.
Note: If you are using a shipping company, you will need to contact them to confirm whether they offer a COD service. For example, UPS will collect a cashier's check or money order on your behalf. For more information about this, visit the UPS COD page. Each shipping company works differently so it's best to contact them to confirm.
Offline methods
Offline methods don't charge customers right away, they just store the data provided by the customer which you can then process manually. Offline methods include wire transfer, phone orders, and checks.

There are three different types of offline methods:
Offline Basic: This processor doesn't ask for any details, it just saves the entered order data.
Offline Check: Asks for an Owner's full name, Checking account number and bank routing number.
Offline Purchase Order: Asks for a PO number, Company name, Buyer's full name, and Job position.
To add an offline method, go to Manual payment methods, then add a Payment method name at checkout and any payment instructions you wish your customers to follow.
You then need to process your customers' information, and once the payment goes through, you can fulfill the customer's order.