Yola offers a selection of templates that allow you to change the banner image. To change the banner image, click on the banner area. This will open the Style Designer on the left-hand side. Please follow these steps:

1. Under the "Colors" section, click Banner Image.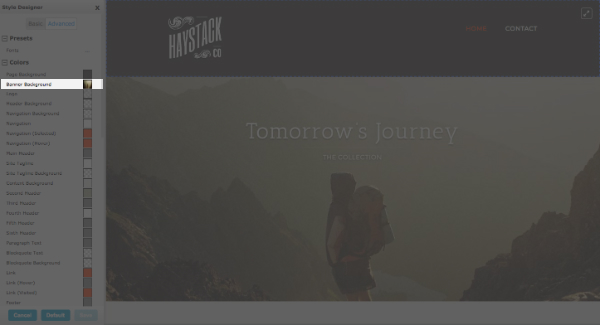 2. The Banner Editing dialog box will open up. Click Edit > Select Image. You can choose to upload a new image or select an existing image from your File Manager.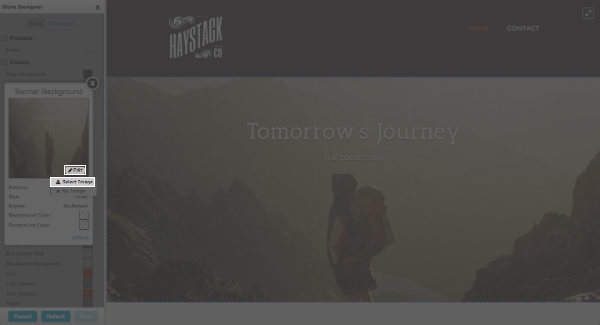 3. Once you've selected an image, a background color and/or foreground color can be added and you can also control the opacity of these colors. The position of your banner can be adjusted and you can select whether you wish to have your banner image repeat. You may also select the size of your banner:
Auto (keeps the original image size, no matter what the banner size is)
Cover (stretches your image to cover the entire banner area)
Contain (stretches or shrinks your image proportionally to fit in the banner area)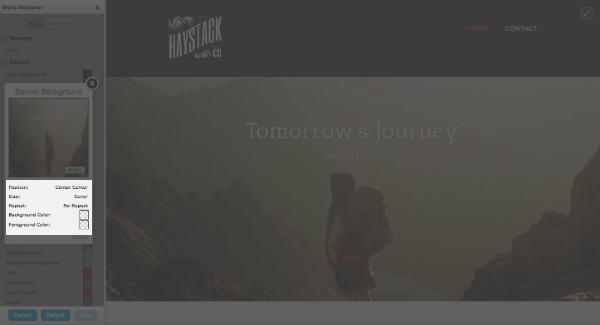 Apply to all pages
After uploading your banner image through the Style Designer, click Save. A dialog box will open up acknowledging the changes that have been made and will ask if you wish to apply these changes to all your pages. Click Yes if you wish to apply the same banner to all pages.

You can also view our tutorial: Personalize your Style.