When you create a website with Yola, the first thing you are asked to do is give your site a name. When you publish your site, you may want to make your website's name (title) part of your domain name.
Here are some ideas for selecting a site name:
Keep it short. Long titles are hard to remember. They take up space in the header of your page and can make your menu look messy and cluttered.
Don't use a domain name as your site name. For example, if you are going to publish your site to www.mysite.com, you might simply want to use My Site as the name of your site.
Make it relevant. Choose a name that reflects what your site is about. A short, relevant name gives people a clear indication as to why they should visit your site.
Using a Yola Subdomain Name:
When you publish your site you might decide to use a free Yola subdomain name, which is a quick and easy way to get your site online. Use the second field in the publishing dialog box to make use of this option. Your site would then be called something like mysite.yolasite.com.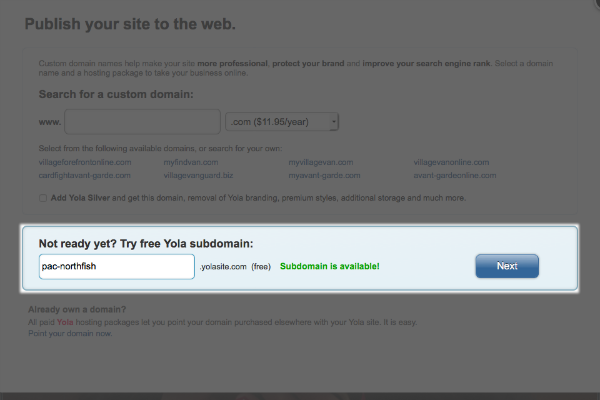 Hints:
You may later decide to register your own domain, or you might have a domain name already that you intend to use. Go ahead and publish your site to a free subdomain while you are still constructing it, and then use your custom domain when you are ready to "go big" and share your site with the world!
You can publish your site to a free subdomain as well as a custom domain if you wish.
Register Your Own Domain Name:
Using a custom domain name is always a good idea if you are prepared to make a small investment. You can publish to your own custom domain name once you have upgraded to Yola Bronze, Yola Silver or Yola Gold hosting subscription. If you have not registered a domain name yet here are some points you might want to consider:
Short names are best. The longer the name, the more likely people are to forget or misspell it.
Make it easy to remember and to spell. Avoid hyphens or quirky spelling. Your name might be very clever, but if people can't spell it, they won't be able to find your site.
Be descriptive. People are more likely to click on a link to your site if they can see immediately that it has the information they are looking for. For example, if you are looking for dog toys which would you click on first?: dogtoys.com or funwithrover.com
A valid domain can contain letters, numbers, and hyphens. You cannot use spaces or other special characters. Domains are not case sensitive, so there is nothing to be gained by trying to register DogToys.com, for example.
We have a comprehensive tutorial that contains the steps to purchasing a domain from Yola, as well as answers to frequently-asked questions. Here is the link. If your site is already published to a subdomain, and you would like to buy a domain, then take a look at the tutorial listed here.